I have some knitting goals for the year. I seem to base my life off of goals. I guess I am just a goal orientated person. Anyway, my local yarn store created a series of challenges and I am going to complete those challenges. To complete the challenges I have to make 9 different projects or 9 different techniques from assigned categories. I am making new items I would have never made before which, I guess, is what a challenge is all about.
My new favorite project is the shawl. I don't know anyone who wears shawls, but there are some great and beautiful knitting patterns for shawls.
This is my
Wingspan
.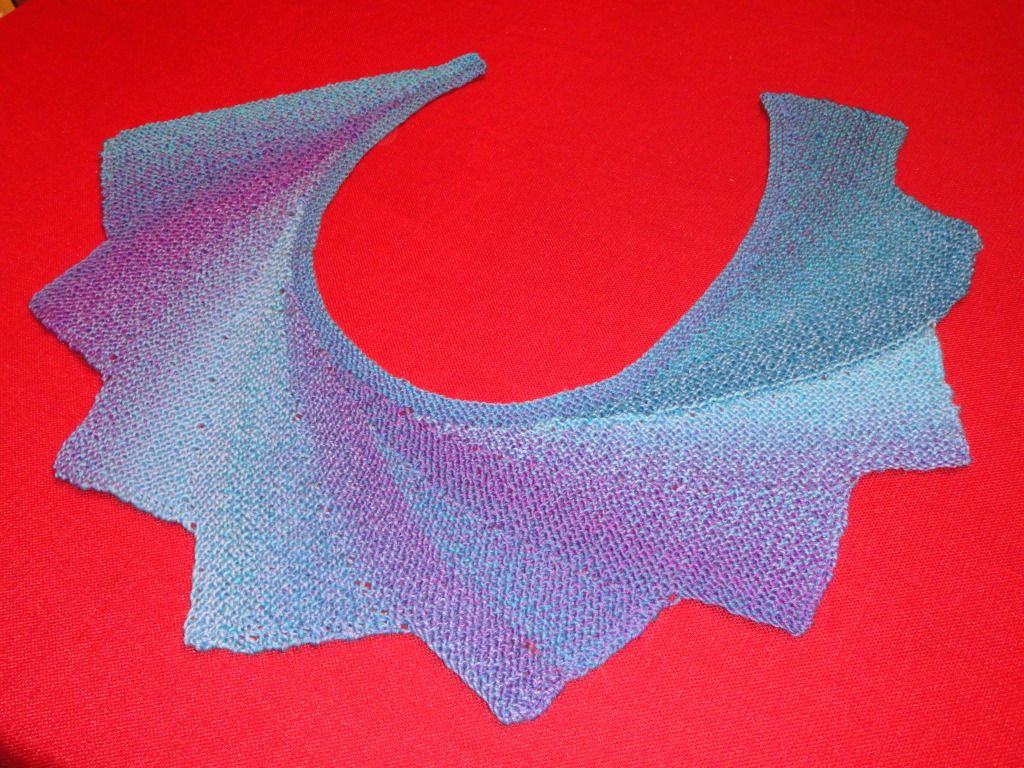 The pattern uses short rows to make the triangles. (This project counts for a shawl and short rows in the challenges. I love double dipping!) It looks complicated, but it is so easy. I had the pattern memorized immediately. I didn't even need to use stitch markers.
I loved the yarn too. It is
Rhythm by Jojoland
in Aquarius. It is a very nice yarn to work with and the color change is pretty amazing. It is superwash wool so, it has less problems with washing than regular 100% wool since it can be machine washed.
This is the second Wingspan I have made. My
first one
turned out more like a small scarf or neckerchief. I made some adjustments and this one came out just right. I may have to make this shawl again and again, maybe with sock yarn (you know how I suddenly love knitting big things with small yarn and tiny needles).
This project has brought me in to the realm of shawl knitting. I already love knitting scarves so, this was an easy jump. I am now finding so many great shawl patterns (including this
TARDIS
one). They call me like a siren. But now, who will wear these shawls? I don't know anyone who does. Maybe I need to start wearing shawls to complete the librarian look? This is the perfect case for me to start selling items because, I want to make them, but not wear them. (Okay, so I would wear the TARDIS shawl, I mean who wouldn't.)
What are your feelings on shawls?