I went into a small panic when I finished the mittens I made for my grandma. Because when that happened, I ran out of knitting for Christmas. There is something wonderful about knitting on a deadline. It seems to give me an excuse to knit instead of doing the dishes, etc. So, I put a call out to Facebook to ask what I should knit next. My husband's cousin's wife responded that she could use a new scarf. I went into overdrive. I love making scarves and I love making thing for people who actually want/request knitted goods. I sent her several pattern options and asked about colors. She did not respond in time for my liking (I had a lot of football watching to do and I really needed a project) so I started on this: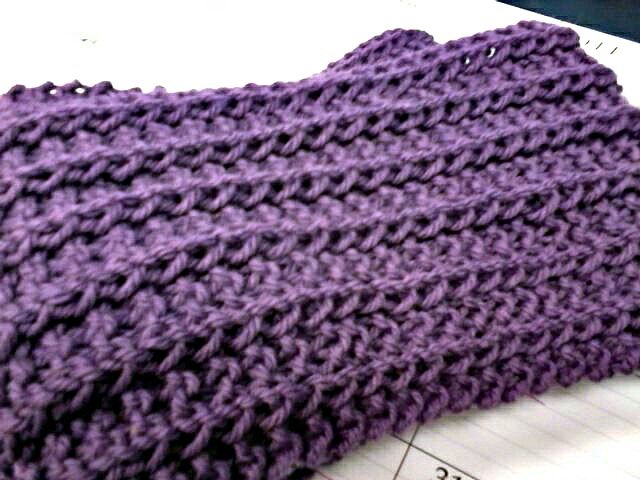 It is the
One Row Handspun Scarf
by Stephanie Pearl-McPhee (aka the
Yarn Harlot
, her blog is a must read for knitters) and I have had it in mind to knit for a while. I cast on on Sunday just before lunch (and football) and cast off on Monday at lunch. It is such a hypnotic and addictive pattern, just the same 4 stitches over and over.
In the mean time, my husband's cousin's wife, responded and picked a different pattern and color. Which I was actually pretty excited about because the pattern she picked was also something I had been wanting to knit for awhile. It meant I got to go yarn shopping. (It also means I have a purple scarf Christmas present to give to my husband's grandma. Double score.)
On Monday my local yarn store is closed, so I went to Jo-Ann's. They just did not have what I was looking for. I was looking for fall colors, but everything seemed the wrong shade. I ended up with some pretty cream yarn with a bit of gold sparkle in it. I got home and cast on for the
Honey Cowl
- that's 220 stitches in the round!
I worked a few rows and decided that the yarn was all wrong. I like the creamy sparkle, but not for this project. (I think I will make it in to some Christmas decoration for next year. Maybe a stocking or something.) That left me with needing to go yarn shopping again.
I hit The Fiber Universe and found the perfect yarn (Cascade 220 heathers, I just love Cascade 220!!) and cast on as soon as I got home.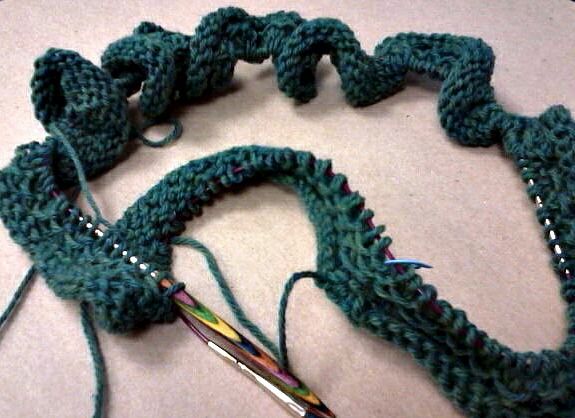 This picture is before I got to work on it last night (not that I did much, just a few rows.) I am happy with the progress and it is working up much quicker than I thought. It is a beautiful blue-green. (The camera on my phone just does not do it justice.) I will definitely have it done by Sunday at noon when I will see the intended recipient. I have a 2 hour car ride and then a 5 hour car ride so I have a lot of knitting time a head of me. The question is, what am I going to knit on the way back?