Happy 6th Birthday to my little dog, Kelly.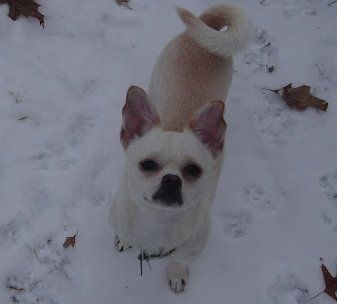 Kelly came to us from one of my husband's middle school students. She had a dog having puppies, she had to find homes for them. We took one and my dear friend Liz took another. His name is Toby.
Kelly is a funny dog. Her looks are confusing. She is very cute to some and ugly to others. Her mother was a peekapoo and her father a chihuahua. Liz calls the pups Peekachus (like the Pokemon Pikachu).
Kelly, though despite her dainty looks, is a dirty dog. She likes to roll around in the grass (and other things) and get dirty. She hates to be clean, but she loves to snuggle with you on the couch or in your bed so she does need to be clean. Such a tough life.
She is also the attack dog. Our other dog, Claire, mostly barks because Kelly barks. Kelly has fought her brother Toby over food and drawn blood. She also makes the funniest growls. She sounds like a gremlin.
But for all her faults and her strengths, Kelly is our little dog and we love her.