It is no secret, I love making dishcoths.
I made this pair this past weekend for a whoopdwhoop swap. I love
Whoopdwhoop
. You should try it.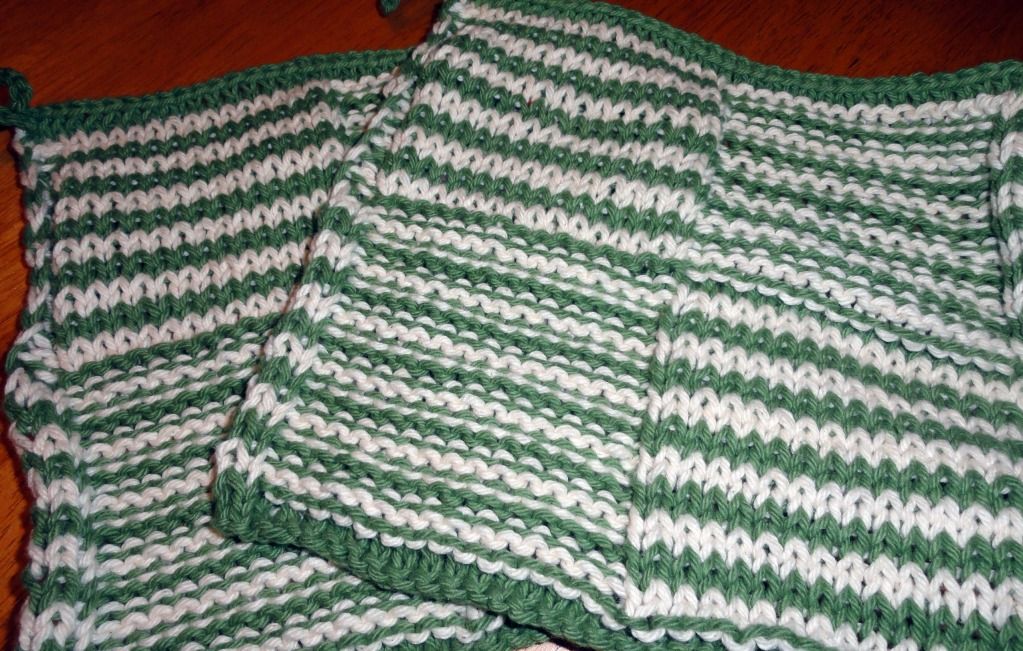 I never tire of making this pattern over and over. The pattern is Not-Your-Average Washcloth by Elizabeth Prusiewicz from the book
101 Designer One -Skein Wonders
. This set is made with Sugar 'n Cream in ecru and sage as requested by the swapper.
I love the One-Skein Wonders series. Have you tried it? I have a few of the books form the collection, but I probably should get them all. I also have
One-Yard Wonders
for sewing (hmmm, maybe I should sew this weekend). Anyway, I am cheap so I like to make projects that only take one-skein or less a lot of the time. (I do splurge for much bigger projects from time to time.) I guess that is one of the reasons I love dishcloths so much; you can usually make two from a skein of Sugar 'n Cream cotton. Plus they are quick and don't require looking at a pattern a lot. Oh, and they are so useful. The Trifecta...Quadfecta?
What do you keep going back to? What do you feel like you do over and over? Anybody need any dishcloths? I may feel generous and make some for a commenter or two. (Can you tell, I would really like some comments.)
Oh and Happy Groundhogs Day!
I'm alright and nobody worried 'bout me