Grumpy. I have a tendency to be grumpy. I was very grumpy with my reunion. It may have been that I was not drinking or I did not stay late enough to have fun with others or maybe I really am just a grump. When I was little my parents said I was ornery like Oscar the Grouch. I don't think my husband would disagree now.
Anyway.
I got over my grumpiness with a stop at Target. I love Target and I love back-to-school shopping. I am not taking any classes and my child does not need school supplies but I still love to check out all that the back-to-school section has to offer. I also love to see the kids fighting with their parents to get the cool supplies over the cheap supplies.
I did get two school supplies myself. A composition notebook and a set of two Sharpie pens. The composition notebooks were just so cute clean and cheap; I could not resist. What I will use it for is still a mystery, but everyone needs a composition notebook, right? My Sharpie pen has already made my work day much more enjoyable. Have you ever tried a Sharpie pen? They are so amazing. I highly recommend them.
I am a bit of a pen lover. I have two mugs on my desk serving as pencil holders (or pen holders in my case) because one is just not enough.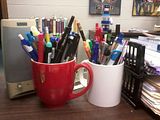 I will take every free pen offered to me and I will purchase pens that I think are cool. I especially like eco-pens and pens that are not of the black or blue ink variety.
I guess when I get grumpy, I just need to focus on something that makes me happy; like composition notebooks and Sharpie pens.