Months ago I bought yarn to make D and myself matching cardigans. Sounds cheesy doesn't it. Well I am not making them too matchy, just a bit. I am making the cardigans from the same pattern and the same yarn, but not the same color or, of course, size. I am really trying to convince myself this is not cheesy like the picture I have of my mom, sister and I all wearing pastel kitty sweaters in the early '90s.
I am spending a lot of my time doing a bit of professional knitting, but I finished up some of those projects and could not start the next. It was Sunday and the yarn I needed was at Hobby Lobby. Why do I want to go to Hobby Lobby only on the day it is closed?
So, I decided to cast on
Yoked Cardigan
by Knitbot for my D.
I love this pattern because it works up so quickly and in a variety of sizes. I could make as small as a 17" chest.
Here is mine:
You may remember when I made this late-June/early-July. I was my first cardigan. Really my first knit article article of clothing.
I don't have a picture of me wearing mine because I would have to have someone take my picture and I just never get around to asking and doing it. I like getting my picture taken, but I end up taking most of the photos around here.
Here is D's so far. I have only knit on it a few days.
I just have another inch or so in the body and then the sleeves. This is a short/waist-length cardi with just-above-the-elbow sleeves. (Is there a technical name for that?)
She seems to like it so far...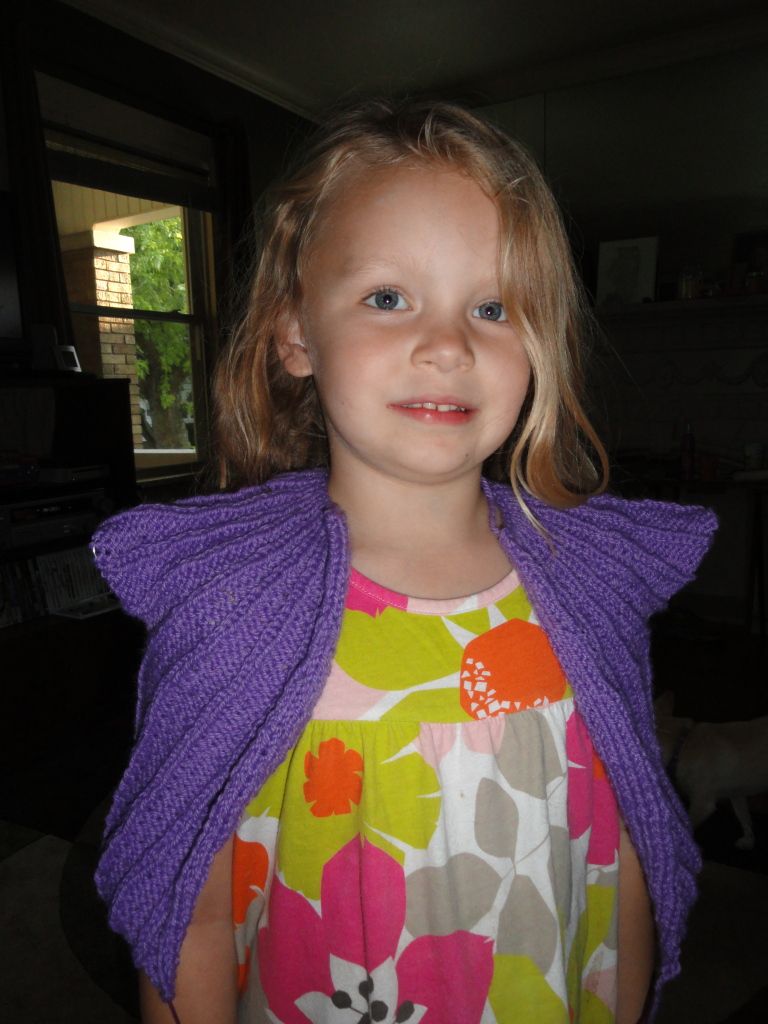 So how cheesy of an idea is this?