Last week, we bought a "sport van". Not a mini-van, a sport van according to the title,but who are they kidding? Now this is not our first van, my husband has been driving a mini van since 2006, but that was his vehicle not mine. This sport van is for me.
The decision to buy a van was difficult, I'm not even 30 yet (one month from today actually). Yet, I knew it was the right decision to make with our growing family and our constant trips to visit family. Plus our old van has been very helpful for hauling everything from Christmas presents to bags of mulch.
So I did my research on Cars.com and read
Consumer Reports
and found the van in the Peoria area I wanted and that we could afford.
So we bought this 2011 Kia Sedona.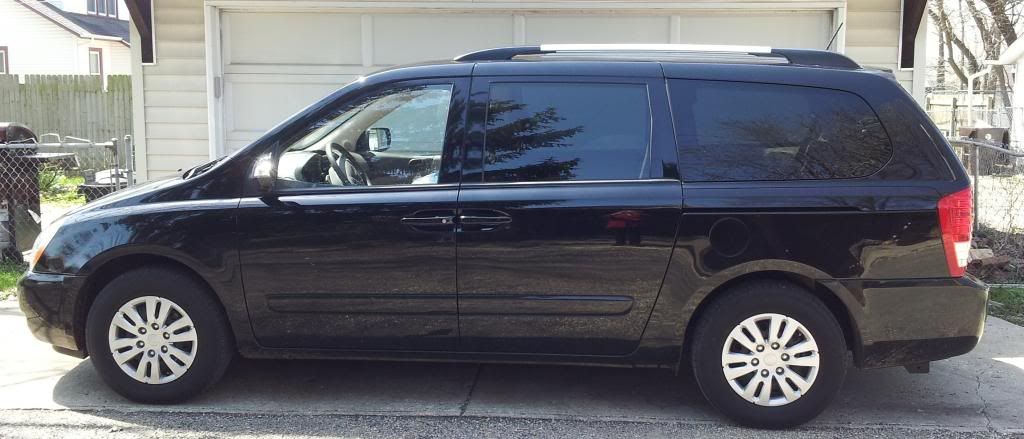 And guess what. I love it. I am a mini van mom. I never thought I would be a mini van mom, let alone love it.
I am not a bells and whistles girl. All my previous cars have been manual transmissions. I have never had power windows or locks. For the past seven years I have been without cruise control. I would much rather prefer a vehicle with low mileage that is less expensive and will last a long time.
Our new van doesn't have a lot of extra features, but it does have power locks and windows, plus cruise control. It has Bluetooth capabilities. It has a V6 engine and I have never driven a vehicle with so much power. I have to watch the speedometer closely because it is so easy to go fast. It is great in the rain which has been nice for this very rainy April. And D really, really loves it. She has staked out the back seat as her domain. She gets herself in and buckles-up all by herself. I really love that.
I guess I can even surprise myself.