Since I began knitting a few years ago, I have wanted to knit socks. Not sure why. What is the appeal of spending hours and hours on something that you can easily buy in bulk, which would be faster and much cheaper. Did you know that a hand knitted sock pair is made up of thousands of stitches and sock yarn can cost beaucoup bucks. Still, there is the allure of sock knitting. It is a compact project so it is easily portable. There are beautiful sock yarn in tons of alluring colors. Also, it is a challenge.
To learn to knit I sock, I first had to learn a new method of knitting. I love knitting things in the round. Usually they are hats. I had not done anything with a small diameter because I hate knitting with double-pointed needles. I am just not a fan. So, I had to learn how to magic loop knit. It is actually not that hard. I picked it up right away thanks to this video tutorial from
Knittinghelp.com
Knitting help has taught me a lot since I do not have any knitty friends that are more advanced knitters than I am.
With magic look I started my sock and I am pretty far along. I have just finished my heel flap and about to begin my gussets.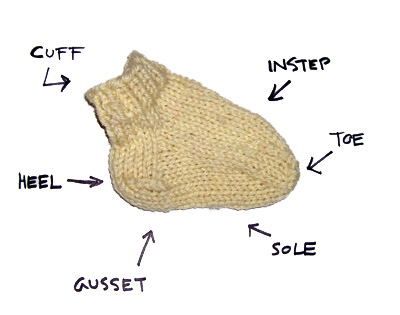 Here is what my sock looks like now
I started knitting this over Labor Day weekend so it is slow going. I just have not put a lot of time or effort into it. Not sure when I will get time or effort, but I'll keep looking.